Dating is so exhausting. I truly hate it. I mean, I've tried to be positive about it, but I'm so sick of meeting strange men and trying to like them. It's so absolutely awful. Though, truly, the only thing that would be worse would be to have stayed with the last guy for any longer.
Let me tell you what's good about dating in your forties:
You know what you want;
You know who you are; and
You're a lot more relaxed about dating.
Here's what's not so good:
You know what you want;
You know who you are; and
You're a lot less likely to compromise on either of the above.
Some good news for you single ladies: there are many, many eligible men out there. But why is it that the men who are age-appropriate are, well, so aged? And delusional? I had a man with SEVEN children of his own ask me on our first date what I thought our children would be like, and I just said, "On the spectrum." I mean, seriously. He's fifty-four.
And why don't men take better care of themselves? Owning a boat and a sick whip doesn't make up for letting your appearance and health go, Buddy. My idea of a great guy is one that I won't have to wheel around or spoon feed in the foreseeable future. It's true that something catastrophic could happen any day to anyone, myself included, but I just don't get why these guys neglect their health. I also don't want to get it.
I want "Maybe Jake" and I'm gonna manifest him.
"Maybe Jake" is age-appropriate but he hasn't let himself go. He's got a good career but he's gotten to the place in his life where work is not the most important thing. He's had his children and is appropriately involved in his/her/their life/lives. He's been single long enough that I could be friendly with his ex. He's taller than I am. He's not in crazy debt and he doesn't have any unhealthy addictions. He can teach me something. He knows when to hire someone else to do the job. He loves children and dogs. He plays an instrument, but that's not really a deal breaker. In my imagination he's a pediatric surgeon – again, not a deal breaker. He wears a baseball cap sometimes and red running shoes, preferably with a stripe, because they make him look faster. (Major cool points if you get the stripe reference.) And his name is Jake or Joe or Nick or Ryan – Oh, Jake Ryan.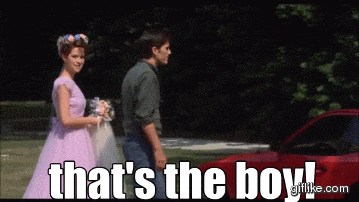 Oh, and best of all, he knows who he is and what he wants, too. Assuming, of course, that who he is is awesome and what he wants is me.